While we're in the middle of the COVID-19 pandemic, we are unable to conduct in-person home tours and staging consultations. Even as the economy slowly starts to open back up, we will still be faced with similar challenges. As we mentioned in our blog article last week, many aspects of the real estate process will be changing in an effort to keep people safer. This means minimizing the amount of foot traffic going through a home for sale.
Musical Chairs
Once things do open up, we expect a lot of real estate activity in our market. We're essentially losing a majority of our normal spring market (the most active time of year) and there's a potential for a second wave of the virus later this year that may once again inhibit our activities. We foresee a compressed sales window that will require a very efficient use of time and resources. We liken it to a game of musical chairs. Everyone will be rushing to make their moves while the market is hot, so they can be set in their new place before the music stops again. This will mean condensing what is normally 6-7 months of transactions into a few frantic months.
We've been talking lately about what both buyers and sellers can be doing in order to be prepared when the time does come for making these moves. One very important part of the home selling process is home staging. You want to get your home ready to be showcased in marketing and looking as inviting as possible for anyone previewing the property (whether it's done virtually online or when in-person home tours are allowed again).
What is a Virtual Home Staging Consultation?
One exciting new method that we have been trying out is conducting virtual home staging consultations with our sellers. We are holding video conferences on Zoom that include us, the seller and our professional home staging consultant. What started as a temporary solution to be COVID-19 Compliant during the lockdown may end up being a highly effective new tool in the future of real estate sales!
How it works is the seller will walk us through the house room-by-room in the video chat. We can ask real-time questions and our stager can guide them as we look at various details and angles of each room. It's a very interactive process that allows everyone to see as much as possible. Each consultation is recorded so that the home stager can then go back and look at each room in even more detail, with the ability to freeze frames and see things that may have been overlooked during the live walkthrough. Then, they can produce a detailed home staging report with all their professional staging recommendations. This report is then shared with our team and our sellers—usually within 24 hours.
We have already found several benefits to conducting these virtual home staging consultations:
1. Giving the Seller a Head-Start
Since our market is basically on hold until at least mid-May, this staging process gives our sellers a significant head-start. They can know what needs to be fixed up, what colors to paint, which rooms need decluttering and other steps that they can take to better prepare their home for showing when the time comes to list it.
2. Easier Scheduling
Sometimes, organizing an in-home staging consultation can be tricky. We have to work with our schedules, our stager's busy travel schedules and our clients' limited availability. Of course, right now we're all pretty much stuck at home and it's super easy to find a convenient time for everyone, but even in the future arranging these virtual staging consultations will still be easier than in-person meetings. This allows them to take place earlier in the listing preparation process. In the future, a virtual consultation may be an effective precursor to a follow-up in-home consultation. Many of the most important details (decluttering, repairs, painting, etc.) can be taken care of by the seller before the stager sets foot in the home. Then, it's just about fine-tuning things rather than having a whole list of chores to do.
3. Reduced In-Person Contact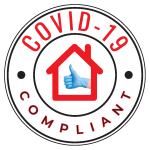 As we've said, the need to reduce in-person contact during the home selling process will be something we all have to adjust to moving forward (a key part of The Cyr Team's COVID-19 Compliant pledge). A virtual home staging consultation through Zoom is a very safe and simple way to share all-important staging advice with sellers as they get their homes ready for sale.
Learn more about COVID-19 Compliant.
4. Photography Preview
One interesting bi-product that has come out of our virtual home staging consultations is that it will potentially help us when the property is ready to be professionally photographed. Between online listings, social media, listing flyers and other marketing materials we produce to showcase a home, having great professional photography is vital. The same goes for any home tour videos or live interactive walkthroughs we may produce. Doing these virtual staging consultations allows us to see the home through the camera lens. We see the best angles and which features should be highlighted most.
5. Overall Efficiency
As we expect the market to pick back up very quickly with a lot of activity in a shorter period of time, it's imperative to have more efficient systems and methods. These virtual home staging consultations will be one more way we can streamline our communication with sellers and get them better prepared for putting their listing on the market.
Check out the latest Cyr Team Minute on the topic of remote staging:
If you are thinking about selling your home in 2020, take the steps to get prepared now. The Cyr Team is here to help with all your real estate needs. You can contact us today to schedule a virtual listing consultation and a virtual home staging consultation if you are ready to hit the ground running when the market floodgates open.