The 2021 U.S. Census data was recently released and there are some interesting trends to review. As real estate professionals, we are most curious about where people have been moving in the past few years. One trend has been clear since the beginning of the pandemic: people are moving away from the big cities and spreading out into the country's rural areas.
Let's take a look at a few key data points and what they truly represent.
Natural Decreases in Most Counties
More than 73% of U.S. counties experienced a natural decrease in population in 2021. This is a significant number, up from 45.5% in 2019 and 55.5% in 2020. One significant reason for this is that there were more deaths than births last year. Covid-19 of course played its part, along with an overall aging population led by the Baby Boomer generation.
However, you also have to consider that means 27% of counties experienced population growth, so it's not just about lower birth rates from today's younger generations. Many of these growing counties are found just outside of major metropolitan areas. 
Domestic Migration Trends
You can look at Southern California as a prime example. Los Angeles County had the greatest net domestic immigration loss by losing 179,757 residents last year. Not coincidentally, Riverside County to the east experienced the second-highest domestic migration gain of 31,251 residents. In first was Arizona's Maricopa County with a gain of 46,866 residents. The Phoenix area has become a very popular landing spot for former Californians leaving the high taxes, higher cost of living and urban crowds of Los Angeles. Eventually, rapidly growing cities like Phoenix and Las Vegas may end up outgrowing themselves. For now, they represent more attractive metropolitan destinations just beyond California's borders.
Chicago and New York also showed relatively large domestic immigration losses. However, it was surprising to see the state with the largest domestic immigration loss was Alaska, followed by Louisiana and Illinois. In fact, almost every single county in those last two states saw a population decrease. Only Alaska's lowest-population counties experienced growth. Meanwhile, states like Nevada, Idaho, Utah, Tennessee, Florida, Vermont, New Hampshire, Delaware and Maine saw almost every single county experience higher populations in 2021.
What's Happening in Pennsylvania and Delaware?
In our local area, Philadelphia, Bucks and Delaware Counties all saw a slight domestic immigration loss of less than 0.5%. The primary county we serve is Chester County, which saw a relatively significant gain. Northern Delaware's New Castle County also saw population gains along with the entire state. Delaware's growth is easy to understand given its proximity to big cities like New York, Philadelphia, Baltimore and DC.
Check out this map from the United States Census that shows each county's relative loss or growth. It's very easy to see certain trends away from the biggest cities.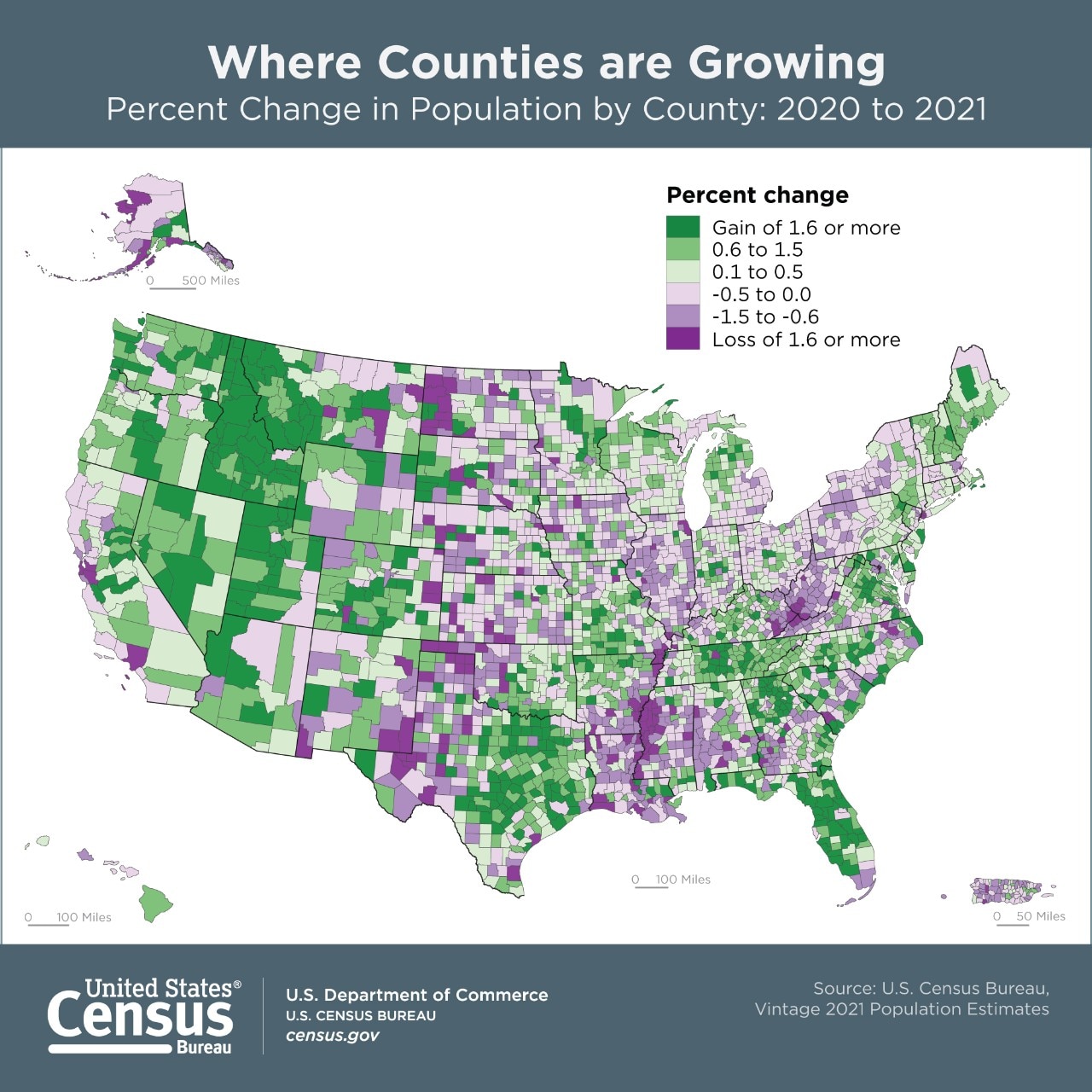 [Source: U.S. Census Bureau]
None of these numbers are truly surprising. The pandemic brought about a lot of changes in American life. Remote job and schooling opportunities increased. People weren't bound to the urban locations as much as before. The pandemic also inspired many families to live closer together. Suburban and rural areas will continue to grow, while some urban populations may start to come back in the biggest cities like New York and LA. Those destinations will always be desirable despite higher taxes, traffic and living expenses.
We have definitely noticed the increase in buyers in Chester County, but we've also had our share of people wanting to move even further away from the city. Whether you are looking to buy or sell in any part of Southeastern Pennsylvania or Northern Delaware, you can count on The Cyr Team. Contact us today for an introductory real estate consultation.